Hidden in an obscure little area of Hong Kong Disneyland between Adventureland and Grizzly Gulch is a small, simplistic but fun little display for the new Disney movie Planes Fire & Rescue (coming out in Hong Kong sometime in August).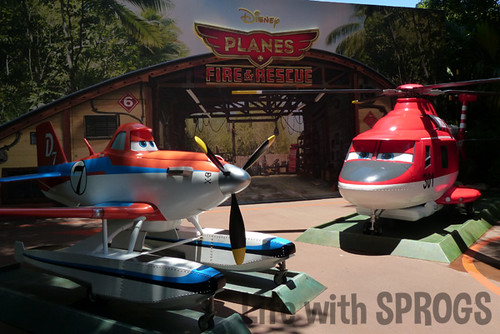 On display are Dusty Crophopper, the hero of the original Planes movie and Blade Ranger the fire rescue helicopter.
You can get up close and take photos with the heroes of the new movie…
or just admire the detail on the scaled models.
Because of their location, despite the massive crowds swarming Hong Kong Disneyland, not many people are noticing this display, so you can get some fairly decent unobstructed photos most of the time.
You'll notice this display as you walk from Grizzly Gulch towards Adventureland on your right. If you're coming from Adventureland the display won't be in your line of sight but is hidden to the left just before the steps up into Grizzly Gulch.
This Summer Hong Kong Disneyland has scaled back on the fun, which for those of us with Annual Passes means things are a little hum-drum out there. They aren't even running the water parade this summer! So this little display is about all you'll find unique to the park for the Summer season right now.
Do you think Hong Kong Disneyland should be doing more to change things up over Summer than just this display?